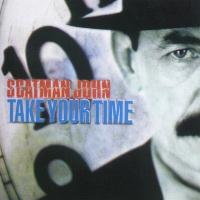 This was the final album from Scatman John before his death in December 1999. There was no lengthy dedication in the sleeve for this album simply "This album is dedicated to you". There were no music videos made for any of the tracks on this album owing to Johns poor health. The album was released around July 1999, John was unaware of it's release.
In a change from the previous albums Kai Mattheson (producer of Eurodance group Mr President) was in charge of production, Ingo Kays and Tony Catania were nowhere to be found. This led to a change of sound for the album, a latin theme ran through several tracks pre-empting the latin sound that would come to prominence in the charts in the following years.
The album spawned a couple of singles. "Take Your Time" was released as a six track CD single. "Ichi Ni San...Go" was released as the follow up, this was quite popular in Germany I believe. In Japan "The Chickadee Song" was released as a double A side single. It featured the album version and remix of "The Chickadee Song" and the album version and 2 remix versions of "Take Your Time". After Johns death the "Take Your Time" single was re released except this time it had only 4 tracks and a banner on the cover which read "In Loving Memory Of Scatman John".
For some reason "The Chickadee Song" is always listed as "I Love Samba" online, so far as we know "I Love Samba" was never released as a single.
Following on from "Everybody Jam!" in which John covered the Queen song "The Invisible Man" here John covers Elton Johns hit "Sorry Seems To Be The Hardest Word".
There was an underground 6 track club DJ promo for this album. There was practically no difference in tracks except for the first few opening seconds.
TRACK LISTINGS
Edit
Take Your Time
Scatman's Dance
The Chickadee Song
Take Me Away
Scat Me If You Can
I Love Samba
Sorry Seems To Be The Hardest Word
Ichi Ni San...Go
Dream Again
Everyday
Night Train
Scatmambo
Take Your Time (Pierre J's Remix) *
The Chickadee Song (A Little Bit Faster) *
Sorry Seems To Be The Hardest Word (Radio Version) *
Indicated Japanese Bouns Tracks