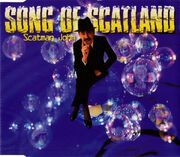 This was the third single released from the "Scatman's World" album. It was an odd choice for a single as it didn't follow the high powered techno vibe of it's predecessors. This was a ballad about Scatman's vision for the world we should all try to create. It was not released in the UK, neither were the subsequent albums or singles. At this point Scatman seemed to have been deemed non profitable, and so this was a European release.
The highlight of the single is the brand new track "Hey You" an emotional techno dance song about Johns struggle against alcoholism. Widely regarded by fans as one of his best songs it was reworked on the "Everybody Jam!" album as a more poppy less intense version entitled "U-Turn". "Hey You" was also included on the "Scat Paradise" EP in Japan.
There was a rare video made for this track. It begins with a close up of John singing which then cuts to a muscular guy carrying a wrench who then opens up a fire hydrant. The city begins to flood, in one scene there is a tap on the side of a building pouring more water. John stands in and on top of the water singing the song whilst children row merrily along in a little boat. There's some Dolphins thrown in for good measure and a chap who dives out of his apartment window and begins swimming. It is a very bizarre video, but a well made one and worth a look due to it's rarity.
On the reissue of the "Scatman's World" album the album version was replaced with the single version.
As far as I know there's no variations of this single.
Track Listing
Edit
Song Of Scatland - Single Version
Song Of Scatland - Groove Of Scatland
Hey You
Song Of Scatland - Album Version
http://scatmanjohn.wikia.com/wiki/Scatman_John_Wiki Back Home