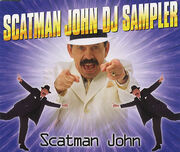 This was a six track promo CD passed around Japanese DJs. It's become pretty rare these days. The tracks were all taken from the "Scatman's World" album with the exception of "Su Su Su Super Kirei" and "PriPri Scat".
Track Listings
Edit
Su Su Su Super Kirei
PriPri Scat
Scatman (Ski Ba Bop Ba Dop Bop)
Scatman's World
Only You
Mambo Jambo
http://scatmanjohn.wikia.com/wiki/Scatman_John_Wiki Back Home
Ad blocker interference detected!
Wikia is a free-to-use site that makes money from advertising. We have a modified experience for viewers using ad blockers

Wikia is not accessible if you've made further modifications. Remove the custom ad blocker rule(s) and the page will load as expected.