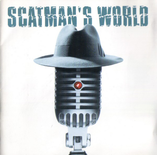 This was the first mainstream album from Scatman John released in 1995. The title comes from Johns second single of the same name. The album was a worldwide hit finding particular favor in Europe and Japan. There are several variations of this album, the Japanese album has a different cover and an additional remix of Scatman. A reissue of this album used the single mix of Song Of Scatland.
The album spawned three singles "Scatman (Ski Ba Bop Ba Dop Bop)", "Scatman's World" & "Song Of Scatland". All three tracks were accompanied by music videos. There were also special remix CDs for "Scatman (Ski Ba Bop Ba Dop Bop)" and "Scatman's World". There was also a rare one track promo CD pressed for Popstar. Around this time there was an interview album presumably passed around radio DJs so they appeared to be interviewing him, the CD closes with John playing a solo Jazz piano piece.
The album was created by Ingo Kays and Tony Catania. The majority of the lyrics were inspired by the obstacles and inspirations in Johns life. Scatman (ski ba bop ba dop bop) deals with the fact that John stuttered. Famously his main concern with recording was that people would discover he stuttered, his wife suggested he make it the focus of the song and declare to people that he was a person who stuttered. Time (Take Your Time) deals with Johns time at Alcoholics Annonymous, a theme which would be explored on tracks "Let It Go" & "Hey You".
TRACK LISTINGS
Edit
Welcome To Scatland
Scatman's World
Only You
Quiet Desperation
Scatman (Ski Ba Bop Ba Dop Bop)
Sing Now
Popstar
Time (Take Your Time)
Mambo Jambo
Everything Changes
Song Of Scatland
Hi Louis
Scatman (Game Over Jazz)
Scatman (Spike Mix) *
Indicates Japanese bonus track.
http://scatmanjohn.wikia.com/wiki/Scatman_John_Wiki Back Home