This was the follow up single to "Scatman (Ski Ba Bop Ba Dop Bop)" entitled "Scatman's World". This was as successful as it's preceding single and maintained Johns status as a popstar. The track deals with his world view and philosophy based on a vision of a utopian society he calls "Scatman's World" in which we all co habit peacefully and help each other out.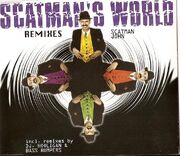 The video begins with a reporter interviewing a disillusioned boy who is on his way to visiting "Scatman's World" from then on the boy is submerged in water whilst idylic images of fields and trees play out, intercut with crowds traffic and general hustle and bustle. Scatman sings against these backdrops about the need to find peace inside of ourselves.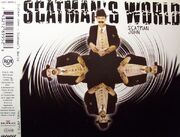 There was also a video from the "Scatman's World" remix CD. The DJ Hooligan mix had a video, basically clips and out-takes from the Scatman's World video with a psychadelic neon blob superimposed over Johns face.
The track itself uses a classical song called Cannon as a backing melody.
UK Release
Edit
Scatman's World - Single Mix
Scatman's World - Club Mix
Scatman's World - House Mix
Time (Take Your Time)
Japanese Release
Edit
Scatman's World - Single Mix
Scatman's World - Club Mix
Scatman's World - House Mix
Scatman's World - 80's Mix
Scatman's Special Message For Japan
Scatman's World - Dance Remix By Ltd. Express
Scatman's World - DJ Hooligan's Underworld-Remix
Scatman's World - Rave Remix By Bass Bumpers Music
Scatman's World - House-Dub Remix By Bass Bumpers Music
Scatman's World - Divas 70's Mix
Scatman's World - 80s Mix
http://scatmanjohn.wikia.com/wiki/Scatman_John_Wiki Back Home