This was a 6 track Japanese exclusive EP. This was the single that introduced Japan to the track "Hey You".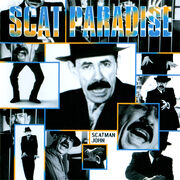 The US Remix of "Scatman's World" is the same version on the PriPri Scat single.
Track Listing
Edit
Hey You
Jazzology
Scatman (Ski Ba Bop Ba Dop Bop) - Jazz Level
Scatman's World - US Remix
Scatman (Ski Ba Bop Ba Dop Bop) - Karaoke
Scatman's World - Karaoke
http://scatmanjohn.wikia.com/wiki/Scatman_John_Wiki Back Home
Ad blocker interference detected!
Wikia is a free-to-use site that makes money from advertising. We have a modified experience for viewers using ad blockers

Wikia is not accessible if you've made further modifications. Remove the custom ad blocker rule(s) and the page will load as expected.