This was a 1 track CD promo for the song Popstar. It was released by Gramaphone Records possibly given to radio stations to promote the album.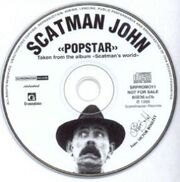 TRACK LISTING
Edit
Popstar.
http://scatmanjohn.wikia.com/wiki/Scatman_John_Wiki Back Home
Ad blocker interference detected!
Wikia is a free-to-use site that makes money from advertising. We have a modified experience for viewers using ad blockers

Wikia is not accessible if you've made further modifications. Remove the custom ad blocker rule(s) and the page will load as expected.