This was the third single from the "Scatman's World" album. Whilst Europe got the "Song Of Scatland" single this was the Japanese release in its place. The cover is almost identical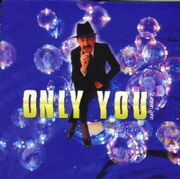 to the "Song of Scatland" single with some of the bubbles being moved around. The other thing this release has in common with it's European alternative is the "Groove Of Scatland" version of "Song Of Scatland".
Track Listing
Edit
Only You
Sing Now
Song of Scatland - Groove of Scatland
Scatman's World - Dance Mix
http://scatmanjohn.wikia.com/wiki/Scatman_John_Wiki Back Home
Ad blocker interference detected!
Wikia is a free-to-use site that makes money from advertising. We have a modified experience for viewers using ad blockers

Wikia is not accessible if you've made further modifications. Remove the custom ad blocker rule(s) and the page will load as expected.