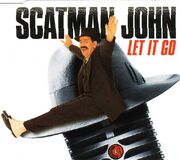 This was the second single from the "Everybody Jam!" album. The album version of the track did not appear on this single, instead It was remixed 3 times. As far as I know the track did not have a video to accompany it, this may be because the "Everybody Jam!" video was so expensive.
The Japanese issue of the single was practically identical except for several silhouettes of John above his name.
Track Listing
Edit
Let It Go - Go For Radio
Let It Go - Go For More
Let It Go - Go For Club
Message To You
http://scatmanjohn.wikia.com/wiki/Scatman_John_Wiki Back Home
Ad blocker interference detected!
Wikia is a free-to-use site that makes money from advertising. We have a modified experience for viewers using ad blockers

Wikia is not accessible if you've made further modifications. Remove the custom ad blocker rule(s) and the page will load as expected.