This was the first single to be released from Scatmans second album of the same name. Originally entitled "Satchmo" it was changed to "Everybody Jam!". The song was a tribute to legendary Jazz artist Louis Armstrong. This was also the single they released to try and crack America, "Scatman (ski ba bop ba dop bop)" was a moderate hit and this was the track to follow it up.
John did the European and Japanese television circuit performing this track as promotion. One one performance in Japan though he flubs a line singing "You wanna hear the greatest story ever told" from the song "Hey You" instead of "You wanna hear the greatest trumpet in the world". But the guy was a genius so we'll forgive him.

The video for this track featured Scatman walking through a car park at night, when he glances up the spirit of Armstrong appears. The pair agree to duet and the action switches to a New Orleans Mardi Gras street party. Armstrong and Scatman ride along the road in an open top limo whilst a marching band precedes them and various children dressed as Scatman dance around. There's also shots of John by various New Orleans Landmarks. The video ends back in the car park as Armstrong disappears.
There was also a 12" remix vinyl from DJ Errik. This was only issued on vinyl.
European Single
Edit
Everybody Jam! - Single Jam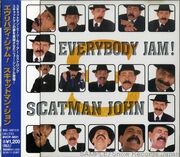 Everybody Jam! - Maxi Jam
Everybody Jam! - Club Jam
Scatmusic
The track listing on the Japanese single was identical to the European issue.
US Single
Edit
Everybody Jam! - Single Jam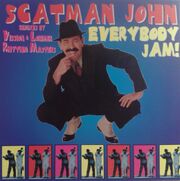 Everybody Jam! - Rythm Masters Horn Mix
Everybody Jam! - Vission & Lorimar Funk-O-Holic
Everybody Jam! - Vission & Lorimar Express
Everybody Jam! - Club Jam
DJ Errik Club Mixes
Edit
Everybody Jam! (Commercial Charleston Club Mix)
Everybody Jam! (Nothing Like A Poison Jam Mix)
http://scatmanjohn.wikia.com/wiki/Scatman_John_Wiki Back Home
Music Video
Edit