Owing to the massive success of the "Scatman's World" album the follow up followed the same path and themes. It wasn't as successful commercially as the debut but still had enough energy and passion to keep John in the game. The Japanese release of the album, again, featured a different cover and 5 bonus tracks. The original title of this album was rumored to be "Journeys Of Fantasy" but was replaced with the title of the first single to make the cut from the album.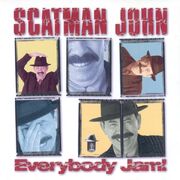 The track "Everybody Jam!" was a tribute song to Louis Armstrong (one of Johns heroes) it was originally called simply "Satchmo". Satchmo was Armstrongs nickname (a merge of the words Satchel Mouth). The track had a video made for it, filmed in New Orleans for approx $500.000 it featured John meeting the ghost of Armstrong and dueting with him, it then turns to a mardi gras style street party with John and Louis riding along in a Limo waving to the crowds. Johns nephew Steve featured in the video too.
At the same time in Japan, John was everywhere. He made the television circuit usually performing "Scatman (Ski Ba Bop Ba Dop Bop)" or "Everybody Jam!". However he was hired to appear in 2 Japanese commercials, one for pudding (featuring the track "PriPri Scat") and one for cosmetics (featuring the song "Su Su Su Super Kirei"). "Super Kirei" was the second track off this album to spawn a music video, this time a little less extravagant than "Everybody Jam!" The video featured John in a featureless room riding a mini trike, producing flowers like a magician and dancing around. He is also filmed in a basement and a cgi kitchen.
Besides "Everybody Jam!" "Let It Go" was also released as a single, although the album version does not feature on it. As far as I know no video was made for the track. The Invisible Man was rumored to be a single release at one point, this never happened though.
The track "U-Turn" was a remixed version of the song "Hey You" from the "Song Of Scatland" single
Hoping to repeat the success of the first album Ingo Kays and Tony Katania created this album.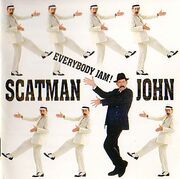 TRACK LISTING
Edit
Stop The Rain
Everybody Jam!
The Invisible Man
Let It Go
Message To You
I Want To Be Someone
Scatmusic
Shut your Mouth And Open Your Mind
We've Got To Learn To Live Together
Ballad Of Love
People Of A Generation
Lebanon
U-Turn
Everybody Jam! (Club Jam)
Paa Pee Poo Pae Po *
I'm Free *
Jazzology *
PriPri Scat *
Su Su Su Super Kirei *
Indicates Japanese Bonus Tracks